Geocaching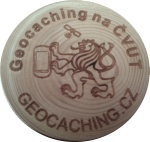 Geocaching at CTU
First lesson
We need you to sign safety instructions. Then we will go to our cache Geocaching at CTU, where we will have a small meeting game. After that, we will go to find some caches around, so please come in appropriate clothes.
We will meet on the 22nd of September, 2021 at 14:10 in front of the National Technical Library building (Technická 6, Praha 6 Dejvice). If you cannot attend, please apologize yourself in advance. You can also watch a shared calendar, or facebook group, where actual information will be available.

Next lessons
We meet once each 14 days (according to your study group) for 3 hours and go somewhere in Prague to find together some caches.
The beginning is planned to be possible to set off at 14:00 from Dejvice. Travel time is not included in the 3 hours mentioned above.
We strongly recommend: do not schedule anything after our lessons!
Sometimes we vote about the next lesson location, sometimes we agree on the previous lesson. The location is announced in the calendar and on the Facebook.
We will organize also optional lessons for enthusiasts (climbing, canoe, underground, nightcaches...).
There will be a competition on the last lesson, where everyone finds caches for himself. The rules will be announced later.
The details will be announced on the first lesson. If you have some questions, we will try to answer them also there.
Who is it for?
For all CTU students.
For students from other universities after an agreement.
For other friends of geocaching – of course without credits.
You are welcome as a novice, regular geocacher or hardcore cacher.
Your own GPS device (mobile phone with GPS) is not required, but strongly recommended (we have some GPS devices to lend).
Credit requirements
The credit is for attendance.
Attendance is written for leading the group to the cache, then you can leave the lesson if you need. But we will be sorry. :(
You can miss one lesson per semester without a replacement.
You can replace max. 3 attendances per semester by individually finding some caches or by attending a lesson of a second study group or attending an optional lesson.
Individually finding some caches = to find at least 4 caches and send us a message with 4 links to logs on geocaching.com + 4 photos. On the photos, there must be visible you and the cache, or logbook with your geocaching nickname and the surroundings of cache. The deadline for sending the replacements is the final competition.
How to participate?
If you want first-hand information, vote on next lessons locations, upload photos etc. – join our Facebook group